A woven wrap is a uniquely woven, long piece of material that is used to securely wrap your baby to your body. These wraps are woven in such a way that they are supportive, safe, and slightly stretchy to create a perfect carrier for babies of all ages. Woven wraps take a bit of practice, but once you get used to them you wonder how you ever went without it!
The fabric used in woven wraps is not the kind of fabric you can buy at fabric stores or make yourself, unless you are a weaver with a floor loom! The weaves of woven wraps can vary and provide unique wearing and carrying functions. You can find weaves that range from loose to tight, some with no stretch and others with lots of stretch, some are grippy in texture and others glide easily. If you are new to wrapping we recommend going with a simple weave in 100% cotton. Ovolo, Didymos, and Lenny Lamb would be perfect choices!
Most woven wraps have a center marker (generally a small label sewn in). This middle marker tells you how to line the wrap up on your body for each particular carry.
Woven wraps are sized in three different ways regular, metric, and US standard sizing. Below is a list to help guide you: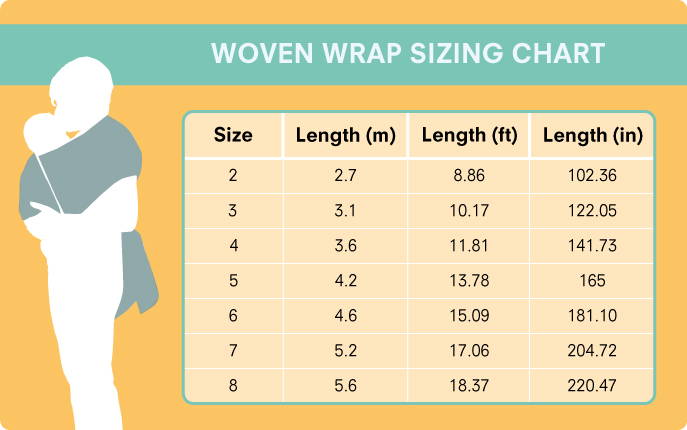 ---
Now, the fun part…..shopping for your first woven wrap! There are tons of choices out there, but don't let it overwhelm you. Look for 100% cotton in a simple weave in a size that will allow you to wrap your baby in a bunch of different ways….front, hip, or back carries. Most average size people can do most carries in a size 6 (4.6 meters), if you are petite you could likely do the same with a Size 5. "Shorty" wraps (Sizes 2s and 3s) are also quite popular because they aren't so long that they drag on the ground and still give you many choices in different ways to carry your baby.
You may be surprised when you first receive your woven wrap because it may feel a bit like a starched tablecloth! Don't panic, most wraps are in their loom state and need to be broken in. How do you break in a wrap? Wash it, iron it, sleep with it, and even braiding it will work. But, the best way to break in a wrap is to wear…wear….wear it! If baby spits up on it or the tails get dirty from dragging on the floor while wrapping simply wash it on delicate and let it air dry! Most woven wraps wash up beautifully!
Rails - the hemmed edges of the wrap that run lengthwise.
Reinforced - when the rails of the wrap cross over baby more than once creating more support!
Tails - the ends of the wrap which are generally tapered or straight.
Seat - the part of the wrap where baby sits. A good seat is so important. The bottom rail is tucked up and between baby's legs to create an actual seat reaching to the back of baby's knees. The top rail comes up behind to support baby's back.
Pass - each time you bring the wrap across baby's body. Passes should be taut, smooth and untwisted to give the most supportive carry.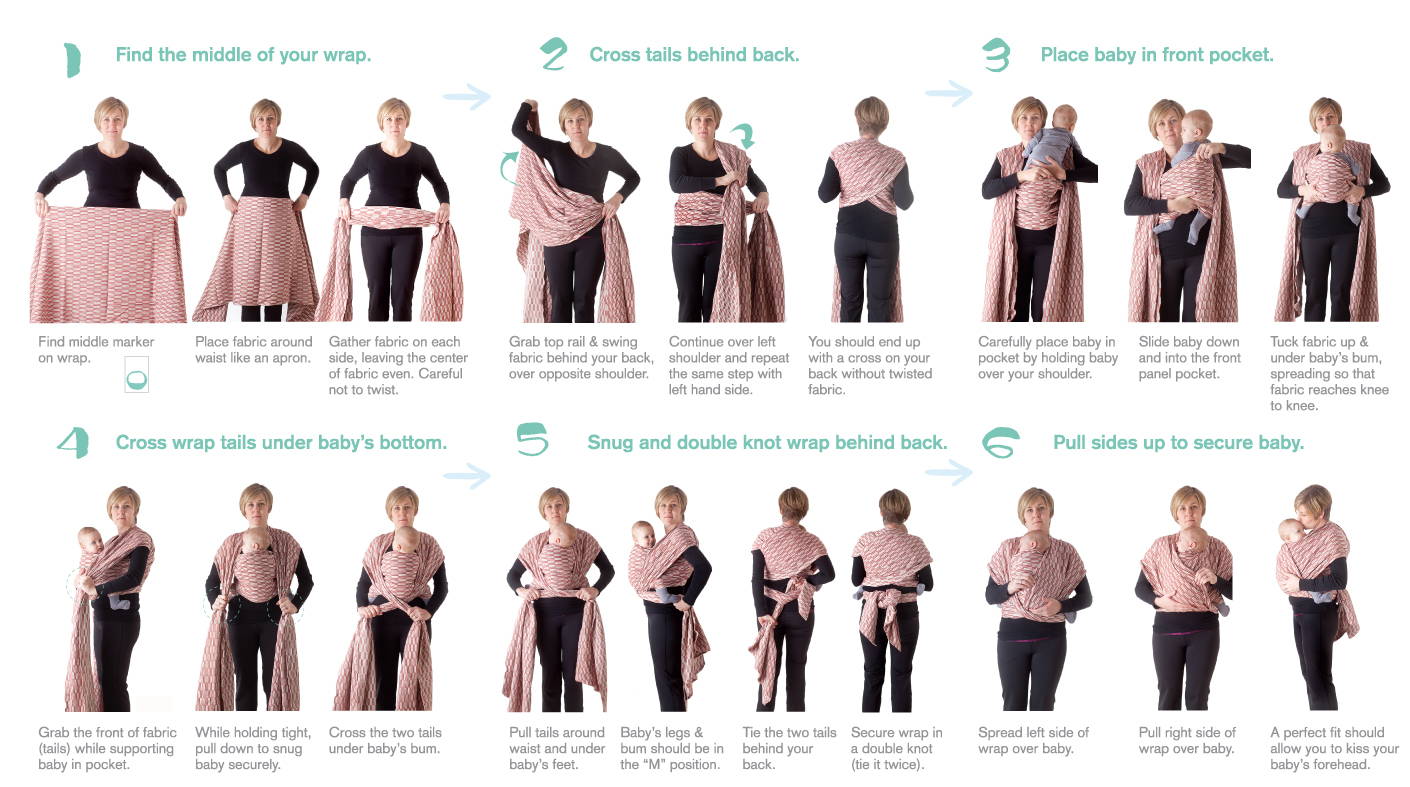 ---
Favorite Carries Video Tutorials