Explore the World of Wood Toys

There seems to be a long standing debate over wooden versus plastic toys. Purists say only 100% wood will do! Others appreciate the many merits of timber toys but still have special childhood memories of certain plastic playthings they want to share with their children. Or, they succumb to the allure of the latest thing (you know, that seasonal "it" toy). We say, why does it have to be all or nothing? In this guide, we'll explain the educational, eco-friendly, and aesthetic benefits of toys made from sustainable materials. From their durability to their timeless charm, it's easy to see why they deserve major real estate in your little one's toy box. And, if you still want to throw in a non-wood item, hey, we won't judge! Here are just a few of the critical skills wooden toys help children develop:
Fine Motor Skills
Hand-Eye Coordination
Creativity and Pretend Play
Real Life Practicality
Language Skills
Cognitive Growth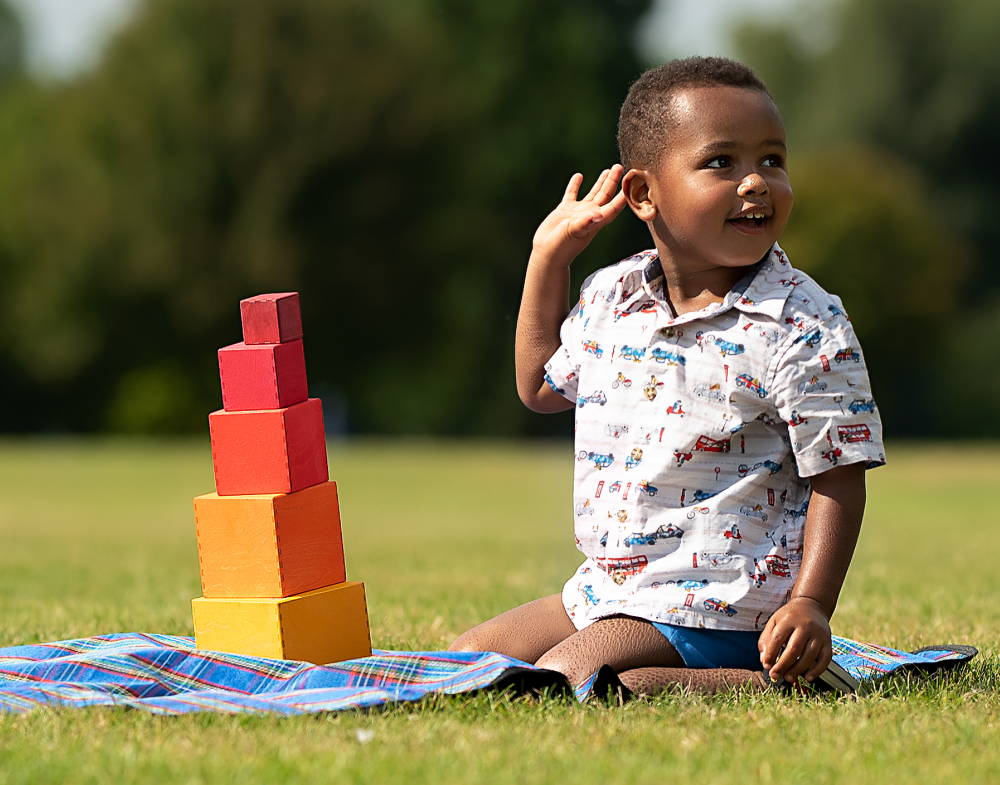 Wait...Aren't Plastic Toys More Fun?

We've all been there. After a birthday or holiday celebration, you look around at what was once your family room and take in the dozens of boxes, wrapped in single-use plastic and holding synthetic parts and pieces to assemble. The overwhelmed recipient goes from game to game, excited for a few minutes but then, to your dismay, quickly loses interest.
Many of these unsustainable (and in most cases, toxic) toys are marketed towards child development. They have showy features such as buttons, lights, music, or parts that move. While these may temporarily catch your child's attention, we've seen time and again that wooden toys contribute more meaningfully to your child's growth and education. One reason is plastic toys that feature cool tech often do all of the work, requiring kids to only push a button or two. What is that old saying? With little effort comes little reward. There's often only one ending as opposed to the boundless play when your child's imagination is paired with a wooden object. Natural toys also encourage meaningful parent-child interaction.
You can have peace of mind in knowing that you've made the better choice by purchasing safe, eco-friendly, and long-lasting wooden toys for your little ones. Bonus: they are easy to clean! When shopping for these types of toys, keep these important questions in mind:
✓ How and where is the wood sourced?
✓ What kind of paint or dye is used to color the product?
✓ Does the quality warrant the price point?
✓ Can I hand this down to siblings and even future generations?
We only partner with small, artisan companies who put their heart and soul into the design, craftsmanship, and sustainability of each and every product. Our wooden toy lines are eco-friendly, non-toxic and built to last.
Based in Thailand, PlanToys focuses on nurturing child development while simultaneously being kind to the environment. Grasping objects teach babies sensory development and fine motor skills. Toddlers and preschoolers will enhance their eye-hand coordination, increase concentration and develop their imagination while building a castle, pretending to cook, or making music.
Working on hand-eye coordination is a must during this stage, and this punch and drop toy is the perfect toy to help your child perfect this skill. Featuring three balls in bold colors and a wooden hammer, your toddler will be both challenged and entertained by this classic game.
This is a great time to start incorporating make-believe play into your child's routine. Whether you're pointing out the different pastel colors or pushing it across the floor for them to chase after, you'll quickly find that even though this toy car appears simple, it offers a variety of options for tiny hands to grab, pull, and move.
With a child under six months of age, it's time to help them hone in on their sense of touch. These sensory tumbling toys will help them practice gripping items in their hand as well as teach them about cause and effect. Show your little one how you can stack the toys on top of each other, and then give the gleeful prompt to knock them over and see what happens. Featuring bright, primary colors and happy faces, these adorable toys are sure to hold their attention during playtime.
Handmade in Europe with sustainable wood like alder and maple, these special playthings are inspired by the Waldorf Steiner education philosophy, focused on developing imagination and creativity at a relaxed pace.
Infants love tactile toys and these Graspers come in a natural, rainbow, or pastel finish (shown here) that look like beautifully hand-dyed Easter eggs! Made from maple, these smooth spheres get their hues from a non-toxic, water-based stain so no worries if your baby puts it near their mouth (as they often like to do)!
Children are fascinated by the magical quality of rainbows and Grimm's has designed a beautiful arched set in a natural wood tone. Each piece feels smooth in the hand and provides endless options for sorting and stacking and as your child grows, they can build tunnels and bridges to a fantasy world all of their own. Also available in a 10-piece for ages 1+.
This is Grimm's stunning interpretation of the classic stacking toy we all remember. Your little one will learn about spatial relationships, work on their fine and gross motor skills, and hand-eye coordination all from one amazing wooden disc tower.
Grapat is a small, family-owned company in the countryside of Spain. Made from alder, lime, beech, and maple, each piece is painted by hand with water-based, non-toxic dyes in colors inspired by nature. Grapat toys are designed to let a child's own imagination run wild.
Three dozen wooden eggs in graduated shades of purple will delight your preschooler with rule-free play. Line them up, arrange them in a mandala or circular formation - whatever their heart desires! They can be added to other mandala sets for even more possibilities.
What's a "nin" you ask? Why, anything your child wants it to be! Thoughtfully designed without faces or gender, kids can create their own unique characters and stories with these charming objects made from sustainable wood. Also available in adult sizes and in natural finishes.
What do you get when you combine colorful wooden acorns, six bowls and a set of tongs? Hours of fun for your little one! They'll count and sort their treasures while improving concentration, fine motor skills and learning colors.
Started in 1969 by a family in Poland, Wooden Story Toys are inspired by a majestic mountain range called the Beskids. Every toy is colored with eco-certified paints and has a soft, polished finish thanks to beeswax and botanical oils. All products come in either a reusable bag or paper box.
Pull them all off, put them all on! Make them fit perfectly or come up with a zany combination. Warm wood shapes are a pleasure to play with and keep those little hands busy.
You may think there's only one way to arrange these rainbow circles but not when it's a Wooden Story Toy! Kiddos can stack biggest to smallest or place their favorite colors together — the only directive is to have a blast!
These Wooden Story Rainbow Blocks improve senses, they are soft to the touch, they catch your eye with natural colors and they smell of wood. With wooden blocks you can conjure the most amazing buildings.
Laura and Gregorio, founders of Ocamora Wooden Toys and parents of three sons, set out to create wooden playthings that are reminiscent of the natural objects their children may find as they explore nature. Designed for unstructured play, everything they create is made from sustainable wood and they use vegetable-based paints and oils to achieve the colorful hues.
Bippity-boppity-boo! With a wave of a magical star wand, your little one can become a fairy godmother, a sorcerer or maybe just spread a little pixie dust! Pairs perfectly with their favorite dress up costumes.
Into the woods you'll go with these charming wooden trees. As unique as the child who plays with them, they are made from organic beech and stained with safe, vegetable-based dyes. Available in both warm (shown) and cold hues, depending on the seasonal mood your kiddo wants to create!
Inspired by an ancient Japanese game, these realistic rocks are super fun. They seem to defy gravity when stacked and can be arranged in so many ways. Your child will improve their concentration, balance, and hand-eye coordination as they create their own rock quarry.
Designed in Barcelona and manufactured entirely in Europe, Lubulona products are characterized by their minimalist, yet playful style. This collection is both functional and decorative and the founders focus on fair and local production.
The wheels on the bus go round and round! Your preschooler will love taking their two friends for a spin in their wooden bus. The driver and passengers can be removed for additional play. Available in red, pink and mini sizes.
The traditional construction set goes modern with this marvelous town. It comes with four stackable houses with ladders, two toy cars with wooden figures and two roofs. Also comes in Autumn, Winter, and Spring. Add in Stacking Trees and your child will have their own village.
These versatile and stylish blocks can be used on their own to build and stack or add to any wooden train set to create neat tunnels, garages, and whatever structures your child can dream up.
We hope our Wooden Toy Guide has given you a lot of helpful information as well as inspiration when it comes to the world of wooden playthings! We understand how important it is for you to give your children the tools they need to develop, grow and thrive. As you can see, long-lasting, sustainable and safe wooden toys are a valuable investment both in enjoyment and education!