We aren't talking about the hotel in New York City or its namesake tasty salad! Our Waldorf Toys Buying Guide is all about playthings that are based on the Waldorf education method. If you've heard of it but aren't quite sure what it's all about, we're here to break it down for you.
Fun Facts:
✔️ The first Waldorf school was founded in 1919 in Germany because the owner of the Waldorf-Astoria Cigarette Factory needed a school for the children of his workers.
✔️ Rudolf Steiner was brought in as the director and applied his principles of child development, which is why this form of teaching is also called Steiner education.
✔️ Today, there are over 1,300 schools and 2,000 early childhood education centers in over 60 countries.
The easiest way to understand the Waldorf learning process is:
🙎🏻‍♂️ Head (Thinking)
❤️ Heart (Feeling)
🖐🏽 Hand (Doing).
It's a balanced approach that engages a child academically, emotionally and physically.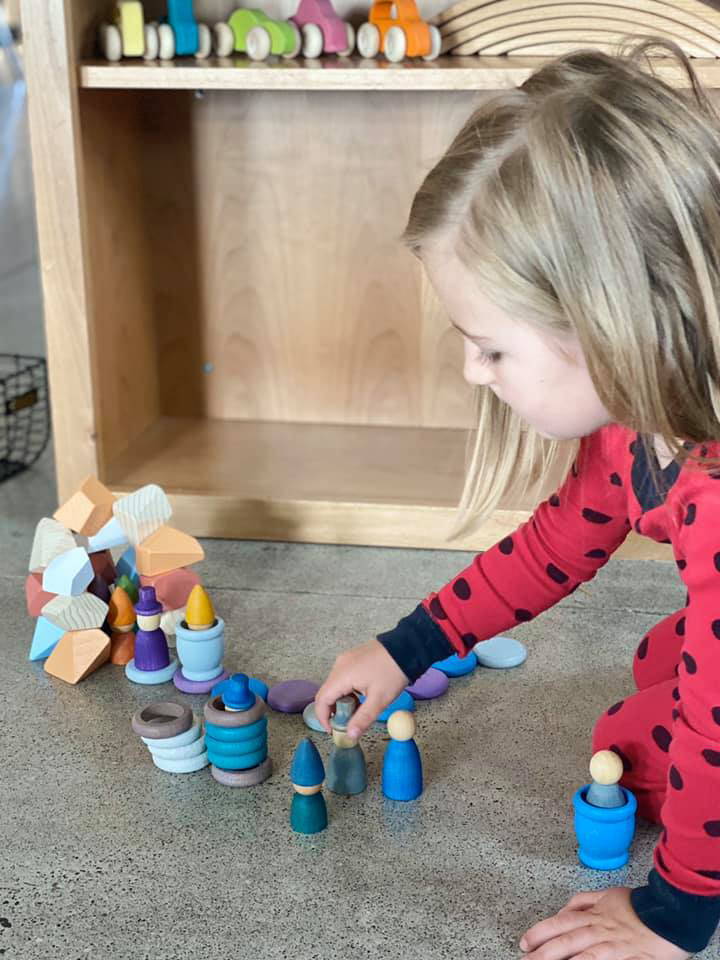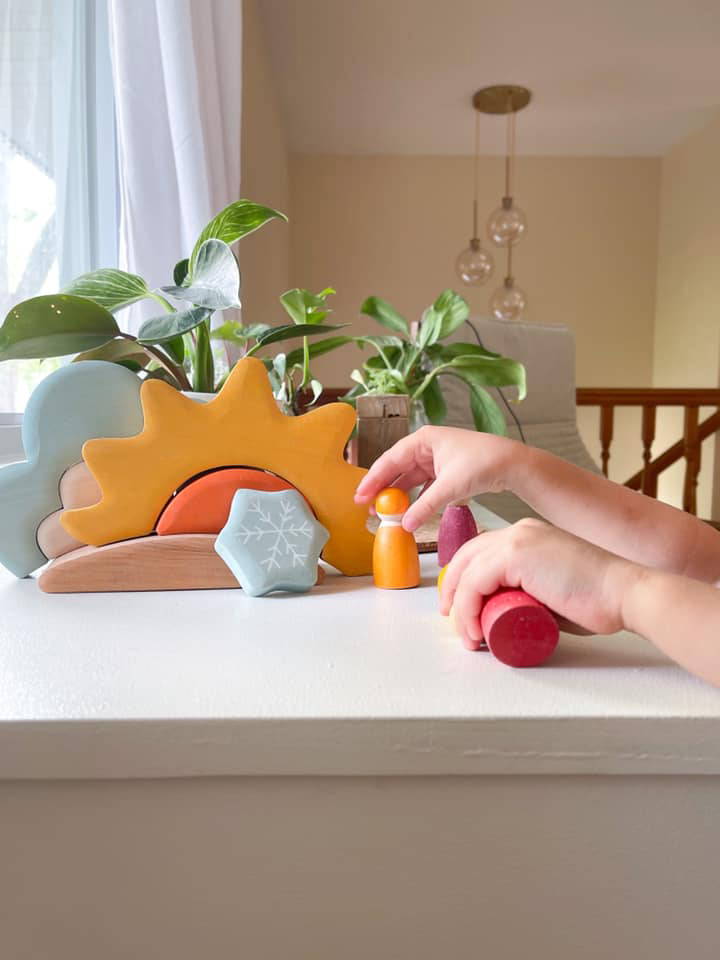 So, what's the difference? You'll know it's a Waldorf toy by its beautiful simplicity handmade from quality, natural materials like wood or fibers such as cotton, linen or wool. Wood toys are left natural or dyed with eco-friendly paints in vibrant colors. The shapes are intentionally basic, feel good to the touch and are conducive to stacking. Waldorf dolls are distinctive by their minimal or lack of facial features. This follows the Steiner principle of allowing children to visualize their own expressions and emotions. The most important clue to a Waldorf toy? No instructions! They are designed to allow for your child's imagination to take flight.
Natural Baby Company is proud to carry Waldorf Toys from artisan companies who set a high bar on design, craftsmanship, sustainability and the child's experience. Our toy collection is eco-friendly, non-toxic and will last for years to come.
Bauspiel means "construction game," and since 1983 their high-quality educational toys have inspired children to build, stack and assemble as far as their imaginations can take them. Crafted in Germany with polished native woods such as beech and alder, with some sets featuring sparkling stones and translucent cubes, these toys are a stimulating way to teach color memory! Bauspiel wooden toys are designed to be mixed and matched, resulting in countless possibilities.
A mesmerizing set of rainbow cubes encased in European wood, this 25-piece transparent window cubes set offers endless options. Use it to teach colors and counting. When held up to a light, it gives a kaleidoscope effect! It works wonderfully with other Bauspiel building sets.
What's more magical and full of hope than a brilliant rainbow? Grimm's signature symbol is resplendent in this Large Rainbow stacking set. Each colorful piece is made from smooth lime wood and feels great in your child's hand. What begins as a toddler's building toy grows into an element of fantasy play for older kids. The rainbow arches can be used as tunnels, doll cradles, fences and much more!
Their very first doll! Children six months and older will delight in this iconic, Waldorf-inspired cuddle toy. Made from super soft velour, the sweet faces are hand embroidered on 100% cotton and available in three skin tones. The perfect size for little hands to grasp and play with "their baby."
Grapat is a small, family-owned company in the countryside of Spain. Made from alder, lime, beech and maple, each piece is painted by hand with water-based, non-toxic dyes in colors inspired by nature. Grapat toys are designed to let a child's own imagination run wild.
Three dozen wooden eggs in graduated shades of purple will delight your preschooler with rule-free play. Line them up, arrange them in a mandala or circular formation -- whatever their heart desires! They can be added to other mandala sets for even more possibilities.
Laura and Gregorio, founders of Ocamora Wooden Toys and parents of three sons, set out to create wooden playthings that are reminiscent of the natural objects their children may find as they explore nature. Designed for unstructured play, everything they create is made from sustainable wood, and they use vegetable-based paints and oils to achieve their colorful hues.
This beautiful Mountain Stacker (shown here in the shades of a brilliant sunrise) will provide entertainment from birth to far beyond. Children can arrange the organic wood pieces into the shape of a hill or their own unique formation.
We hope our Waldorf Toy Guide has helped you understand the history and mission of these special, handmade playthings that date back over 100 years. We know how important it is for you to provide the tools your children need to develop, learn and flourish. Waldorf toys are distinctive in their thoughtful design, sustainable materials and educational principles. They provide hours of open-ended, imaginative play and will become heirlooms to be passed down to the next generation.