Choosing cloth diapers over disposable diapers is an easy decision that will save you money, time, and help the environment.
The following are just a few reasons why you should make the change for you and your baby.
From infancy to training pants, your baby could use nearly 7,000 disposable diapers, at a cost of between $.17 and $.25 per diaper. That adds up to over $1,500 in diapers for one baby. Cloth diapers and hybrid systems could reduce that cost by as much as a thousand dollars per child. Read more about how choosing cloth diapers can save you and your family money.
Washing a cloth diaper is as easy as flushing the solid waste down the toilet, then rinsing, washing, and drying your diapers just like a regular load of laundry. If you can't quite stomach the cleaning process, you can always turn to the hybrid (all-in-two) diaper. The hybrid system consists of an outer shell, and a liner, much smaller than a full-size disposable diaper, that minimizes the mess in the cloth diaper and can easily be thrown away. The shells then go into the washer just like regular cloth diapers.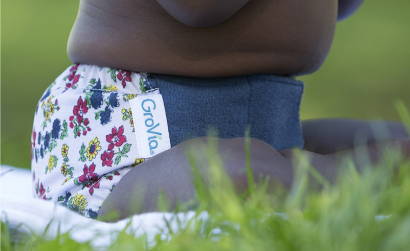 ---
Cloth Diapers Help the Environment
Every year, billions of disposable diapers are produced and used in the U.S. Valuable resources are consumed to produce these diapers, and they in turn create millions of tons of waste to be dumped into landfills. Cloth diapers and hybrid diaper systems help reduce this waste by providing a reusable, washable solution. Hybrid diapers with disposable liners provide a clean, easy-to-use balance between disposable and cloth diaper, still using a washable outer shell, but with a smaller disposable pad for a lessened environmental impact.
---
Cloth Diapers are Reusable & Re-Sellable
If you're using all-in-one diapers, you only need around 40 for as long as your baby uses them. When they wear out, they can be used as burp towels, washcloths, changing pads, or whatever you need a soft cloth for. In addition, cloth diapers can be re-sold when your baby grows out of them if they are still in good shape. Many parents are afraid to invest in several new brands of cloth diapers to find out what works best for their children, and buying used diapers is a low-cost option. Using cloth diapers might seem like a daunting, time-consuming task, but actually, they are simple to use, environmentally friendly, and easy on your pocketbook, as well.